a play, a performance, a dj set

TIME BASE CORRECTOR
DIE HAMLETMASCHINE by ww
DJ VAL

Feb 18th 2016
Aurora - PVD - RI



Liebe Zuhörer & Gäste,
Sie und ihre Ohren erwarted ein Spektakel besonderer Güte
- bitte reservieren sie das datum und erscheinen zahlreich.
Zu erleben gibt es LASER POODLE (nl/be) Maschin Drum und Synth Duo von Sleek Mink und Fyoelk die schon seit sehr lange poliphone hyperactive elektronische tanz musik für den undergrund machen - Wilted Woman (ger/us) ebenfalls elektronische tanz musik wobei sie den Zuhörer auch ganz einfach mal von einer bösen noisewand in die abstraktheit konkreter music sequenzet. L.Lewis (us) teilt das interesse für elektronische tanzmusik und sucht ihr zuhause in den nuancen der monotonie einer von technik generierten musik. Dj schlucht ist nicht midi gesynct und tanzmusik nur ein mittel zum zweck. Was genau sein Zweck ist weiss er selbst oft nicht jedoch kann er das recht gut.

Dear guests and listeners,
An especially marvellous spectacle awaits you and your ears.
Please reserve the date and bring all your friends and the whole family.
You will experience:
- LASER POODLE (nl/be), long-running drum machine and synth duo of Sleek Mink and Fyoelk— hyperactive electronic dance music from the underground
- WILTED WOMAN (ger/us) makes electronic dance music as well, sequencing the listener from harsh noise into abstractions and musique concrete.
- L LEWIS (us) is also inspired by club music and finds a home in the nuances of the monotony of machine-generated music.
- DJ SHLUCHT (ger) isn't midi-synced and only uses dance music as a means to an end. he doesn't quite know what this end is, but at least he's good with not knowing...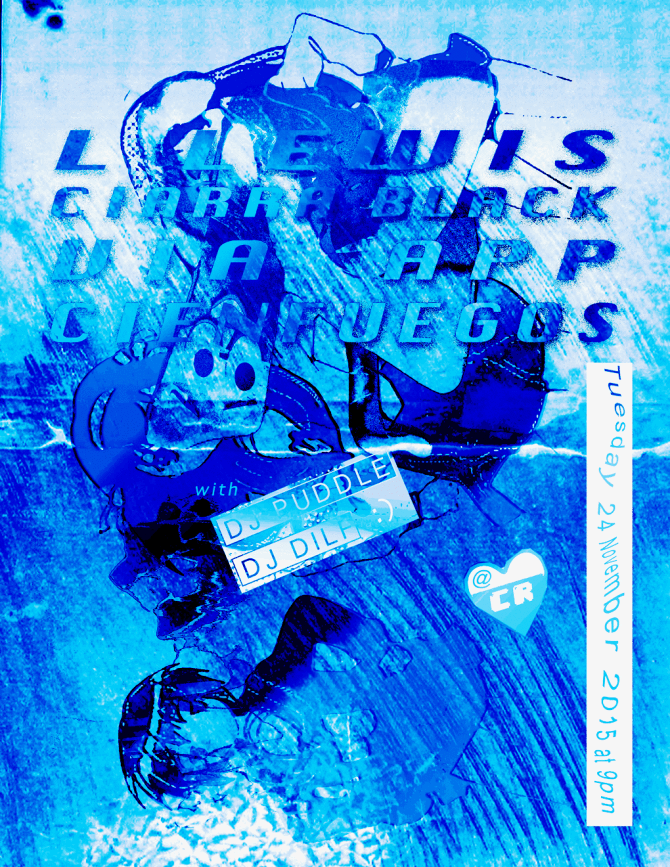 L LEWIS (primitive languages)
first name lucy last name lewie. veteran of the mid 2000s synth vs noise war's pro-peace faction, LL has gone on to play synth-noise that lives somewhere between plastikman and party tom. as many have noticed, lu-lew moved to nyc last year and has become a core member of the primitive languages crew, but tonight she returns to the Valley for a very special performance!!!

VIA APP (1080p)
dyl pickles also left new england last year for new yorkier pastures and has since become a ubiquitous name in the local ~dancey dance~ scene. v.app's live set is known to be astonishing, turning the darkest corners of worldstarhiphop into insane rave tracks that will make u tear up and/or break a sweat. vinyl debut out this month but you gotta see it to believe it!

CIENFUEGOS (unknown precept)
alex "suave-z" s tickles the mpc pads as if they were keys on a grand piano and he was liberace. rhythym hopping expression of Feelings -- dark and beautiful and funky and fun and sometimes scary. very rare providence appearance!

CIARRA BLACK (no-tech)
rave goth mastermind and NO-TECH co-conspirator c.b. making her long-awaited solo debut in rhode island. however perhaps you remember her as 1/2 of marie antoinette spooky breakcore band APPETITE from a few months back? very harsh dark technoi for club use never!! also a sick dj to boot.

intermezzo by dj puddle & dj dilf
tuesday 24 november 2015
9pm at CR